Picture this: sun on your face, toes in the sand, the sound of waves crashing on the shore, breathing in the salty-fresh air. In your hand is a tropical cocktail, a vibrant flower or colorful paper umbrella adorning the rim of your sun-warmed ceramic tiki mug.
Now…what if we were able to bring most of those sensations to our little slice of Hill Country Heaven?
At Garrison Brothers, we're always trying to push the envelope of what good bourbon can do. While our beloved spirit is wonderful when enjoyed neat, including it in cocktails can elevate the lively tasting notes each bottle contains. And although we enjoy a classic Old Fashioned or Boulevardier as much as anyone else, we find that something a bit more exotic can uniquely highlight many of the different flavors bursting within a bottle of our bourbon.
Thus, in our quest to explore the versatility of our whiskey, we turned our attention to an untapped well of potential in the world of bourbon: tiki cocktails.
While the term "tiki drinks" brings to mind overly-sugary concoctions with a list of ingredients longer than the line to pick up our Cowboy bourbon, the history of tiki bars and cocktails is one of the most intricate and storied in the cocktail world. When they're done right, a good tiki cocktail is balanced and refreshing— the perfect beach companion for sipping on. However, tasty as they may be, to truly appreciate a good tiki cocktail, we find it's best to know the entire story behind the movement.
The story of Tiki Cocktails traces back to the end of the Prohibition era, when American adventurer Ernest Gantt, better known as the legendary Donn Beach, opened what many consider to be the very first tiki bar in 1934, aptly named "Don the Beachcomber". Donn, who spent his formative years in Texas and (depending on who you ask) may have been born right here in the Lone Star State, was inspired by his love of Polynesian culture and travel to open the tiny watering hole in Los Angeles, California, decorated floor-to-ceiling with various treasures and knickknacks he'd acquired in his South Pacific adventures.
Though Don the Beachcomber branded itself as a bar serving "Polynesian drinks", in reality it was close to a Southern Californian take on Polynesian culture, utilizing freshly-sourced local ingredients to craft a novel array of tasty and refreshing cocktails. He became known for his "Rhum Rhapsodies", elaborate rum-based drinks often featuring upwards of ten different ingredients. His four original bartenders were called simply "The Four Boys", and they spent their days and nights shaking, stirring, and innovating the world of American cocktails.
Don the Beachcomber was an immediate hit. Though tiki bars were not in any way, shape, or form an accurate representation of the cultures they meant to emulate, they provided post-Prohibition Americans a sense of escapism through a window to a laid-back, idyllic lifestyle in the tropics.
When World War II began, Don shipped out with the Army Air Forces, entrusting his ex-wife Cara Irene with the care of his beloved tiki bar. In his absence, and under Irene's guidance, the bar flourished, opening up sixteen new locations across California and several other states.
The impact of Don the Beachcomber and Mr. Beach himself in the world of tiki bars and cocktails is hard to ignore; we have him to thank for several iconic tiki drinks as well as the syrups and mixers still utilized in crafting new tropical cocktails today.
Of course, we'd be remiss to tell the story of Don the Beachcomber without also sharing that of his rival and friend, Trader Vic. Victor Bergeron opened his first tiki bar in Oakland, California, originally called "Hinky Dink's". The bar was later renamed to "Trader Vic's" to reflect Vic's propensity for exchanging food and drink for whatever tchotchkes and knickknacks customers would bring in, which he used to liven up the tiki den. Vic was inspired by Donn, but was also supremely interested in forging his own path; he may have admitted to swiping a few ideas from Donn, sure, but he claimed he knew he could "do it better." The Trader Vic's brand flourished, and continued to do so to this day, with locations still running across the globe.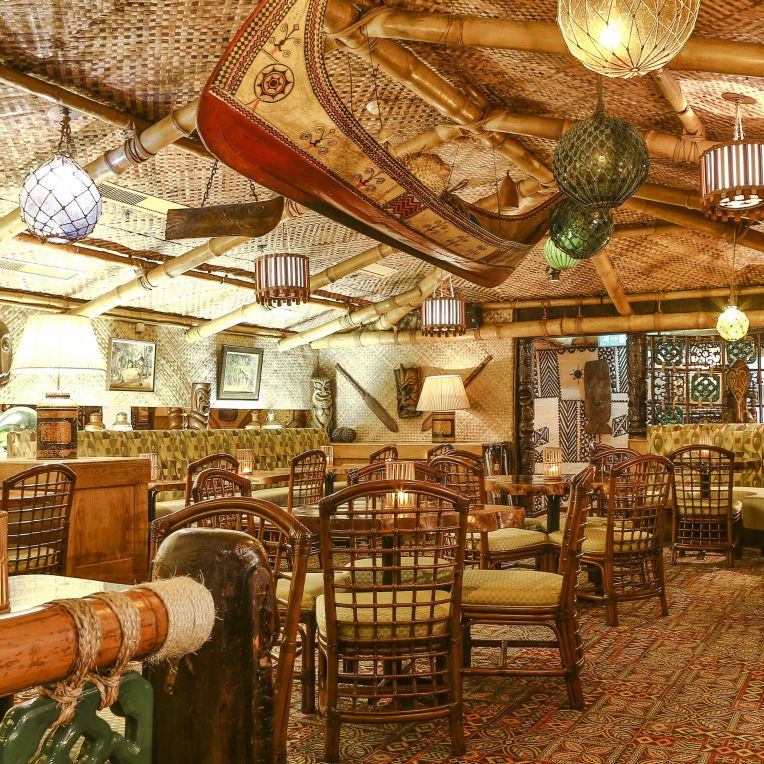 Despite getting their start in the 1930s, it was the late 40s and 50s where Tiki Bars across the country began to hit their stride. Following the end of World War II, thousands of American servicemen returned home with a newfound love of the "exotic" inspired by their time abroad. The extravagant décor and tropical ambiance of tiki bars served as an attempt to recreate the cultures they'd become acquainted with overseas.
However, the novelty eventually wore off sometime around the 70s, and tiki bars began to be viewed as more tacky than charming. Disco took charge and left tiki in its wake, though plenty of loyal fans kept bars like Trader Vic's running through the years.
Tiki bars experienced a resurgence of sorts in the 90s, with bars taking inspiration from Don Beach and Trader Vic's quirky décor and deliciously refreshing tropical cocktails. This iteration of tiki moved slightly away from the kitschiness of earlier bars, focusing instead on securing fresh, high-quality ingredients for the drinks. Tiki bars took on an almost retro quality, calling to mind a time when tropical vacations were a bit harder to come by and sipping on a Mai Tai was the closest to Polynesian culture most Americans ever came to experiencing. Nowadays, Tiki bars are in the middle of a bit of a renaissance, with world-class mixologists and dedicated Tiki historians like the great Jeff "Beachbum" Berry bringing these classic recipes into a whole new light.
As long as we're getting into Tiki's history, it's only fair that we talk about what really makes a tiki drink a tiki drink. For starters, rum— more specifically, the mixing of rums, typically bolstered by the sweetness provided by fresh fruit juices. Famous tiki cocktails include the Mai Tai, dubiously credited to Trader Vic; the Zombie, which, according to legend, Don Beach invented to help a hungover customer get through a business meeting; and the Navy Grog, another concoction of Don's which, along with the Zombie, was served with strict limitations allowing customers to order no more than two.
Naturally, given its American heritage, bourbon is not an ingredient that is typically very heavily featured in tiki cocktails— though there are a few, such as the Halekulani, that do feature our favorite dark spirit, its use is pretty limited in the world of Tiki bars. We got to wondering how our delicious nectar may fare in conjunction with the fresh, tropical ingredients featured in standard tiki cocktails; thus, Texas Tiki Month was born.
With all this Tiki talk, we have no doubt you folks are watering at the mouth to get your hands on one of the aforementioned delicious cocktails. Fear not— you certainly won't have to travel too far to enjoy something sweet and fruity! All through August, we here at Garrison Brothers are hosting a month-long "Hye-Land Time" celebration, complete with a weekly rotating specialty cocktail menu, eclectic tropical decor, and more Hawaiian shirts than you could ever dream of out here in the Hill Country. Our team of bartenders at the Whiskey Shack have been hard at work, reformulating classic Tiki drinks to show off all of the subtle flavors found in our award-winning bourbon Whiskey.
And, of course, what's a delicious tiki cocktail without a funky tiki mug to sip it from? We'll have limited-edition Ferdinand the Bull tiki mugs available for sale all month long! Come pay us a visit at the ranch sometime this month to indulge in a little tropical vacation right here in the heart of Texas, and stay tuned for more cocktails throughout the month. Aloha and Salud!